Books, video, and websites
There's a comprehensive list of further reading and references in the Climate-Friendly Gardener's own book (watch this space for news of a publication date!) but here are a select few.
Get in touch if you'd like to suggest anything.
Books and magazines
Here are some of the books I've found most useful.
Martin Crawford, 'Creating a Forest Garden', 2010, Green Books, ISBN 9781900322621
Ken Fern, 'Plants for a Future', 1997, Permanent Publications, ISBN 9781856230117
Bill Mollison, 'Permaculture: A designer's manual', 1988, Tagari, ISBN 9780908228010
John Walker, ' How to Create an Eco Garden: The practical guide to greener, planet-friendly gardening', 2011, Aquamarine, ISBN 9781903141892
Rob Cross and Roger Spencer, 'Sustainable Gardens', 2009, CSIRO Publishing, ISBN 9780643094222
Susanna Lyle, 'Ultimate Fruit and Nuts: A comprehensive guide to the cultivation, uses and health benefits of over 300 food-producing plants', 2006, Frances Lincoln, ISBN 9780711225930
Graham Stuart Thomas, 'Plants for Ground-Cover', 1984, J. M. Dent & Sons, ISBN 9780460126090
Charlotte Green, 'Gardening Without Water: Creating beautiful gardens using only rainwater', 1999, Search Press Ltd, ISBN 9780855328856
Chris Baines, 'How to Make a Wildlife Garden', 2000, Frances Lincoln, ISBN 9780711217119
Michael Lavelle, 'Sustainable Gardening', 2011, Crowood Press, ISBN 9781847972323
David S. Ingram, Daphne Vince-Prue, and Peter J. Gregory (editors), 'Science and the Garden: The scientific basis of horticultural practice', 2008, Blackwell, ISBN 9781405160636
Diana H. Wall, Richard D. Bardgett, Valerie Behan-Pelletier, Jeffrey E. Herrick, T. Hefin Jones, Karl Ritz, Johan Six, Donald R. Strong, and Wim H. van der Putten, 'Soil Ecology and Ecosystem Services', 2013, Oxford University Press, ISBN 9780199688166
Richard Bisgrove and Paul Hadley, 'Gardening in the Global Greenhouse: The impacts of climate change on gardens in the UK', 2002, UK Climate Impacts Programme (an update is due sometime…)
Michael Braungart and William McDonough, 'Cradle to Cradle: Re-making the Way We Make Things', 2009, Vintage, ISBN 9780099535478
Simon Fairlie's article 'Can Britain Feed Itself?', first published in The Land magazine's winter 2007-2008 edition.
Many gardening magazines contain information that can easily be found in books. The magazines cost a lot more but sell because they've got more pictures and and the pictures are glossier. But even without all the other excellent reasons to join, it'd be worth being a member of the Royal Horticultural Society just to get their magazine, 'The Garden', because the information in it is reliable, and it includes the latest news on things like scientific research, gardens to visit, and new species and varieties of plants (and the pictures are just as glossy as anybody else's).
One magazine, though, that is definitely worth reading is Permaculture magazine, published by Permanent Publications.
It's also worth checking out the gardening writers in newspapers and magazines.  For example, I may be biased, what with my longstanding Grauniad habits, but I like the Guardian's regulars Lia Leendertz and Alys Fowler anyway, for their awareness of 'green' issues.
For keeping up to date with climate science and renewable energy technology, New Scientist and New Civil Engineer are worth reading, though for the details it's still necessary to go to the original scientific articles, and for that the best place is now the internet – as long as the article is open access so that anybody can read it. If funding for science research doesn't include the money to pay for making the results public, then only people working in academia or with lots of money (an article may cost several pounds, and a journal's annual subscription may costs hundreds) are likely to read scientific journals. Public libraries can get photocopies of any articles even if they aren't open access, but the poor reader must still pay for the copying, so 'ordinary' people are still put off reading science. Some public libraries have an arrangement with journal publishers which allows people to access journals from computers in the library – but that too is under threat as the so-called 'austerity' of cuts to local government closes more and more libraries. And that can hardly be a good for integrating the 'two cultures' which C. P. Snow warned us about over five decades ago – and without scientifically literate citizens how democratic can our democracy really be?
Blogs, email newsletters, forums, newsfeeds
The Sustainability Knowledge Alliance, who work with among others Parliament's Environmental Audit Committee, have a newspage with recommended sources of environmental news, including:
Environment and science news – BBC
Environment news – New Scientist
Environment news – The Guardian
Environment news – The Independent
John Walker's blog, Earth-Friendly Gardener, is excellent on sustainable gardening as a whole, and he's one of the few gardening writers who considers how to be climate-friendly.
Deborah Scott Anderson's blog, Climate Gardens, is about adapting to climate change rather than being climate-friendly, but is a useful source of information.
Fruit Forum, run by Joan Morgan.
Ruth D'Alessandro's blog, The Wildlife Gardener, is hosted by the wonderful Naturenet.
The Ranger's Blog, also from the award-winning Naturenet, for an eclectic mixture of anything and everything related to nature.
Wildlife Gardening Forum, hosted by Natural England
Food Climate Research Network Forum
Farming Futures blog
Met Office News Blog
Film, television, radio
I haven't found many films, television or radio programmes which are directly relevant for climate-friendly gardeners, but here are a few I've found useful or inspiring. The two wonderful Natural World programmes 'A Farm for the Future' and 'Cork – Forest in a Bottle' are, sadly, not available to buy from the BBC DVD store or as downloads, so to see them we have to cheat and see pirated versions, which is hardly ethical – but these films are so good that perhaps it'd be more wrong not to spread the word.
'A Farm for the Future' by Rebecca Hosking and Tim Green for BBC Natural World, February 2009, about modern farming's dependence on fossil fuel (yes, even organic farming) and what we can do instead – agroforestry, forest gardens and permaculture, basically.
'Cork – Forest in a Bottle', another wonderful BBC Natural World programme from December 2008 which shows the agroforestry system, the montado, based on cork oak in Portugal (in Spain the cork oak landscape is called dehesa).
'Food Forest Suburb' by Geoff Lawton about making the places we live in beautiful and edible.
'The Man who Stopped the Desert', the story of Yacouba Sawadogo in Burkina Faso in the Sahel, and his work to conserve soil and water.
'Gardening in a changing climate', talk for the Royal Horticultural Society on 22 November 2012 by Julia Slingo, Chief Scientific Adviser to the Meteorological Office.
'Deep Down and Dirty: The Science of Soil' , first broadcast on BBC Four in 2014 and presented by Chris Beardshaw, is good on the complex relationships between rocks, plants, fungi, earthworms and other animals and bacteria.
Radio 4 has some of the best science coverage in Britain, and the list of possible programmes could fill this whole page, but most are only available on iPlayer for a few days or weeks, so it's not worth highlighting them here. One exception is 'The Life Scientific', with episodes which are available indefinitely and which we can even download and keep. And of course there are Gardeners' Question Time on Radio 4 and Gardeners' World on BBC 2. Both can be very good, though some presenters still don't seem to get it about some aspects of sustainable gardening, such as the need to conserve water. I have a soft spot for Pippa Greenwood, Bob Flowerdew, and Matthew Wilson, who are some of the gardeners who do grasp that gardeners must be environmentally friendly and who do know their stuff. It's also worth checking out the films available from the Permaculture Association and Permanent Publications. Some of them are available on YouTube, so an oldie like me is still catching up – all tips welcome!
Websites
I started writing a book on climate-friendly gardening in 2010, and it was only a couple of years later that I found other people had been having similar ideas (collective unconscious, anyone?).
'The Climate-Friendly Gardener: A guide to combating global warming from the ground up' by the United States Union of Concerned Scientists is an excellent introduction to climate-friendly gardening.
There's a fully-referenced document from the Worldwatch Institute by Sara Scherr and Sajal Sthapit, 'Mitigating climate change through food and land use' which is good on climate change and land use, both good and bad.
The Royal Horticultural Society are doing more and more on sustainable gardening.
Here are just a few more useful or inspiring websites:
Agroforestry Research Trust
Carbon Brief
Farming Futures
Food Climate Research Network
Freshwater Habitats Trust (formerly Pond Conservation)
Fruitipedia, Dr Chiranjit Parmar's online encyclopaedia of the fruits and nuts of the world
Garden Apple ID , run by Alison Harding on the Isle of Wight but useful for apple-growers throughout Britain
Inventory of Carbon and Energy, a database of the embodied energy and carbon dioxide of construction materials
Meteorological Office
National Fruit Collection at Brogdale in Kent
Naturenet
Permaculture Association
Plants for a Future
'Sustainable Energy – without the hot air' by David MacKay
'Sustainable Materials – with both eyes open' by Julian Allwood and Jonathan Cullen
Vegan Organic Network
and of course the worthy Wikipedia, including the article on
Climate-Friendly Gardening started by the Climate-Friendly Gardener. Sadly even now the edits have just been of the computer-nerd-proofreading variety, rather than new information or ideas, so if anybody reading this knows something I don't, please share it!
Apps for tablets and smartphones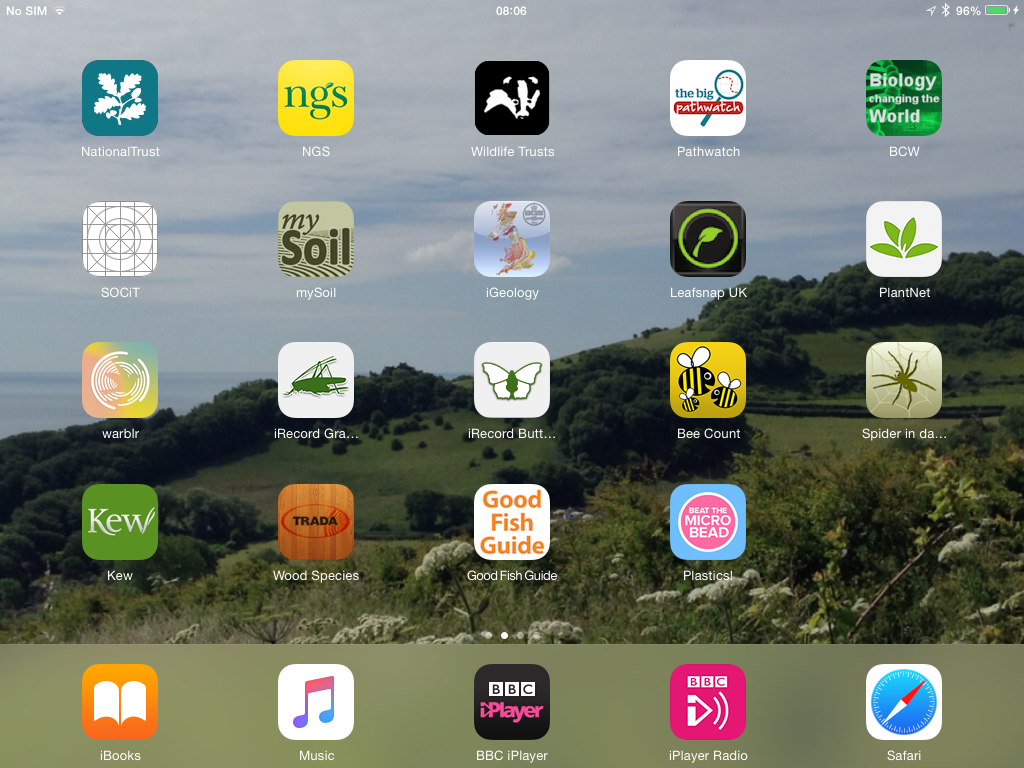 When I first wrote this page I'd had a tablet for less than a year, and even now – when it's just over a year and I've added a few more to the list below – I'm still learning my way around apps, so if you know of any good apps for gardeners please let me know!
Here are a few I've found good so far.
SOCiT (Soil Organic Carbon information) from the James Hutton Institute allows people in Scotland to assess their soil's carbon content by taking a photograph that's calibrated with a colour card that you get in the post – what a brilliant idea!
British Geological Survey mySoil app
British Geological Survey iGeology app
Sadly I may not be recommending the BBC Weather app next year, after the news that the BBC intends to not get its weather data from the Met Office but from some other provider, but until that dire day arrives the BBC weather app is just wonderful (and people are protesting with petitions – here's one of them – so perhaps we can stop this insane decision – and if you spot this stuff still here in 2016, please get in touch and remind me to do an update!).
There are quite a few good apps, and a few superb ones, for plants and other living beings.
Tree identification with the Natural History Museum's Leafsnap UK
PlantNet is a good wild plant identification app that although it's from France is still good for us in Britain, because they've got almost all the same wild plants we've got (and a whole load more).
Timber Research and Development Association (TRADA) Wood Species Guide app
Warblr is one app which I hoped would soon be available when I first wrote this page. It's an app which can identify birds by their songs and calls. I signed up to crowdfunding for the first (and so far only) time for it, but they didn't get quite enough support. I said I hoped they'd get enough funding soon – and now they have and it's been launched at last!
iRecord Grasshoppers does more than it says in the name, because it helps to identify bush-crickets and crickets and other related species as well. And it's got not just superb drawings and photographs and maps, but sound recordings as well! I love it.
iRecord Butterflies does a similar job for butterflies.
For visits to gardens and wildlife sites:
The National Trust's app came out in 2015 and it's superb for finding their sites (not just gardens) near you or anwhere else in England, Wales and Northern Ireland.
The National Gardens Scheme Yellow Book app
The Wildlife Trusts Nature Finder app
Ordnance Survey MapFinder app